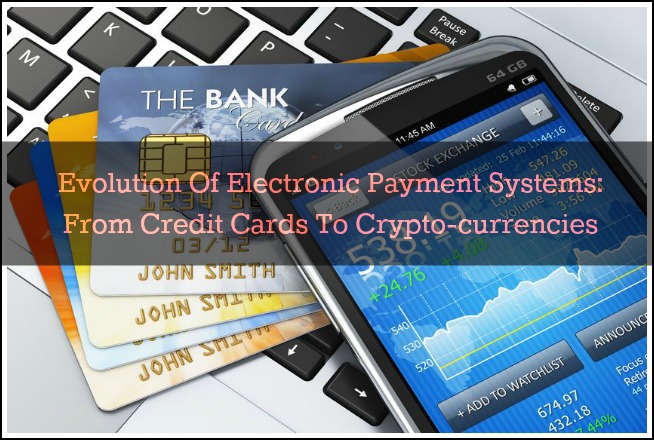 EVOLUTION OF ELECTRONIC PAYMENT SYSTEMS: FROM CREDIT CARDS TO CRYPTOCURRENCIES
The method of making purchases electronically is a pretty modern convenience and a standard for most businesses these days. Electronic payments offer flexibility to consumers who don't carry cash or shop online. The roots of electronic payments can be traced back to the 1870′s when Western Union introduced the electronic fund transfer (ETF). That moment marked the birth of the electronic payment systems we know today.
People across the globe utilize trending methods when they adopt a system of payment for things that they need and want. Innovation is the natural inclination to develop and use systems to accomplish pragmatic solutions for everyday tasks. The evolution of electronic payment systems follows available technology, which can accomplish the desirable outcome of accepting currency in exchange for goods.
Supply and Demand
The economic concept of supply and demand was the stimulant for a common currency that could accommodate everyone who would respond to the "first come, first served" and "while supplies last" principles. A low supply usually means a high demand and a low demand usually results in high supply. Three words – while supplies last – make a big difference in the inventory that remains after marketing.
Just as "while supplies last" can affect inventory levels, "first come, first served" appeals to the emotional level of buyers. In order to give international opportunity to purchasers, it is important to accept a currency that is common to everyone. Sellers around the world thought that the credit card would work for international buyers after the technological advance of electronic swipe machines.
A Brief History of Electronic Payment
Despite Western Union's revolutionary ETF the method of transferring money electronically remained unchanged for close to sixty years. Then, in 1918, the Federal Reserve of America began transferring money via telegraph. The next years saw the advent of charge cards and credit accounts.
In 1950 Diner's Club International became the first independent credit company, followed by American Express in 1958. A year later American Expressed introduced the first card made of plastic.
With the advancement of technology, banks and consumers became more reliant on computers to conduct transactions. Electronic transfers were happening in such huge numbers that in 1972 the Automated Clearing House (ACH) was developed to process large volumes of transactions in batches. Two years later, NACHA established operating rules for ACH payments.
The Birth Of Ecommerce
The world of modern ecommerce is really the result of one man's efforts. In 1979 Michael Aldrich introduced technology that allowed consumers to make direct purchases over the phone. His innovation paved the way for businesses and customers to transfer money and secure purchases instantly.
As a result of Aldrich's efforts, Google developed Google Checkout in 1996. Google Checkout's purpose was to simplify online payments while providing fraud protection and tracking services. Users would store their credit or debit card and shipping information in their Google Account, so they could purchase at participating stores by clicking an on-screen button.
Giant Leaps
When the internet began to grip the world, a common processor became the fodder for a global payment processor with PayPal emerging as the all-time favorite.
As the international economies began to slide down the tubes with market declines affecting people around the world, once again currencies were in jeopardy. Innovation took over and crypto-currencies made their presence known as the development of Bitcoin began to serve the market investors.
Transparency in Action
Development of crypto-currencies are the driving force behind today's economic growth backed by a dynamic payment network bringing sellers and buyers together for the benefit of both. The bitcoin is still experimental with other countries trying and failing to develop a universally acceptable crypto-currency. Today, the global economy demands transparency while growing levels of security try to protect us from ourselves.
Banking systems around the world are experiencing an increase in business thanks to stimulation of the economy, which continues to improve. Consumer demands for transparency within the banking industry have been a helpful ingredient in the current environment of economic stimulation. Independent industries are paying their workers in bitcoin currency as that crypto-currency has a formula control behind it.
Crypto-currencies emerge when local currency fails to perform at a level that consumers expect.
Bitcoin made a lot of initial investors very rich. The one common international factor was development of the Bitcoin "exchanges" where people could exchange bitcoin for local currency or buy some bitcoin with local currency. This crypto-currency became an international standard of value and made computing in the cloud an easy solution for business continuity. Business disaster recovery became reality when data centers went into use.
Mobile Technology and Transparency
The US economy had its struggles through the years, but none as unsustainable as the day it dumped the gold standard backing the dollar. It meant that a fiat currency would determine the value of paper rate of return, now in the hands of a printing press under the control of human whim. The gold standard did its job after it took over from the grain production and storage backing the dollar.
Who knew that the morphing of original cell phones into a smartphone would be the catalyst for the current electronic payment systems? Who could predict that ones and zeroes found in computer programming could be "read" by people around the world? Who could predict that emergence of mobile technology would be an influencing factor behind the crypto-currencies of today?
The Present (and Future) State of Electronic Payments
The current state of ecommerce and online payments owes a lot to the early pioneers. Google Checkout set a standard for quality and helped inspire the concept of digital wallets and Paypal's niche in the online marketplace. In 2009 Bitcoin was introduced. While this is a relatively new technology it is quickly gaining recognition as a profitable investment and a legitimate form of currency.
Brick and mortar stores as well as online merchants are beginning to accept Bitcoins and in June 2014, the first bank that converts deposits in currencies instantly to bitcoin without any fees was opened in Boston. Currently there are over twelve million bitcoins in circulation with an approximate creation rate of 25 every ten minutes.
The future of cryptocurrencies is uncertain, but financial speculators say that it could turn into a $15 billion enterprise.